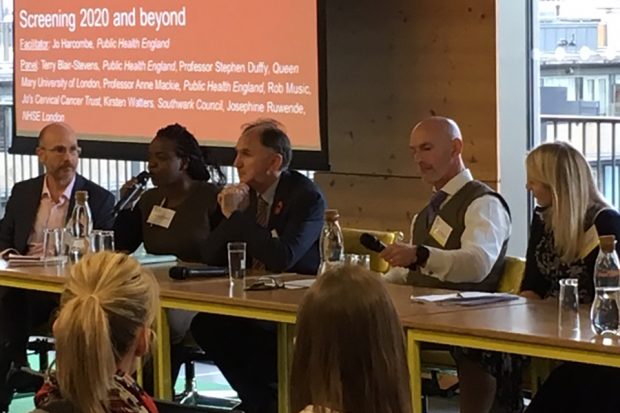 Health professionals, commissioners, academics and patient representatives came together in 2019 to discuss how we can tackle inequalities in screening at the first ever national PHE Screening Inequalities Conference.
Around 130 enthusiastic delegates from a wide range of organisations and backgrounds attended the conference in central London.
The event, which builds on the PHE Screening Inequalities Strategy that launched in May 2018, was an opportunity to:
share information on national and local actions that aim to tackle screening inequalities
hear from experts who work with groups who experience inequalities on how we can help to break down barriers
Professor Anne Mackie, Director of PHE Screening, told delegates:
The screening community has great enthusiasm for tackling inequalities but there is always more to be done.

Working in public health, we spend a lot of time debating inequalities but are not always so good at knowing what to do about them.

We must therefore continue to develop evidence and share good practice of what we know works locally.
Professor Stephen Duffy, of the Centre for Cancer Prevention at the Wolfson Institute of Preventive Medicine, gave the keynote address.
He focused on evidence-based practice to address screening inequalities and told delegates that social media can be a useful way to engage with sections of the population who are less likely to participate in screening. He also said we should not be afraid to blow our own trumpets about the high quality of screening programmes in this country.
Other presentations, all of which are on the slides below, covered:
the importance of data and sharing data safely and appropriately to help understand populations and any reasons for variation in screening coverage
the benefits and potential risks of digital communication methods rather than traditional paper leaflets
a collaborative approach to addressing areas of low screening uptake in the South West of England
Over lunch, a range of organisations showcased their work to tackle screening inequalities and delegates had the chance to network. These included Cancer Research UK, Jo's Cervical Cancer Trust and the Muslim Network Health Collaboration.
Delegates had the choice of 4 workshops to attend in the afternoon session. These covered:
providing equitable access to screening for people with learning disabilities
improving access to screening for members of the LGBT community
access to cancer screening for people with severe mental illness
how a change to the screening pathway can improve access to sickle cell and thalassaemia screening
These workshops highlighted the scale of the challenge to reduce health inequalities. For example, we heard that people with severe mental illness die 15 to 20 years younger than the rest of the population and their cancer mortality rates are twice as high as for the rest of the population.
The conference concluded with delegates questioning an expert panel which included representatives from NHS England and Improvement, local government and patient charities in addition to professors Mackie and Duffy.
Conference organiser Jo Taylor, PHE Screening inequalities project manager, said:
This was a hugely successful conference and the interest, enthusiasm and enormous amount of hard work the screening community undertakes to tackle inequalities in screening was great to see.
Positive feedback
Feedback on the conference was overwhelmingly positive. 93% of delegates who responded rated the event good (49%) or very good (44%).
Specific comments included:
More than met expectations, really interesting.
I really liked that the conference helped to bridge the theory / practice gap. More of the same would be great.
I thought it was an excellent conference with the right mix of topics.
UK NSC blog
The UK NSC blog provides up to date news from the UK National Screening Committee. You can register to receive updates direct to your inbox, so there's no need to keep checking for new articles. If you have any questions about this blog article, or about the work of the UK NSC, please contact the UK NSC helpdesk.