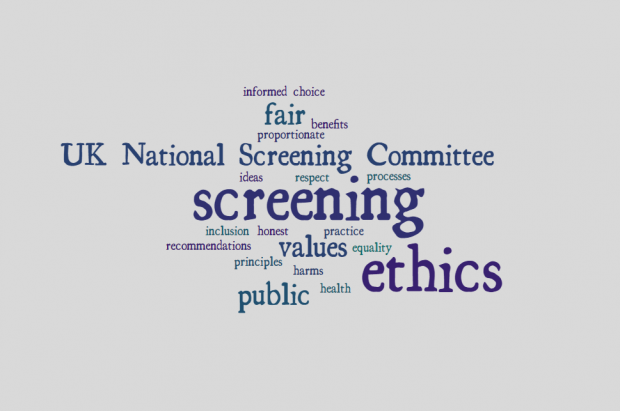 Decisions about any kind of NHS screening programme have an element of ethics. Would the benefits of the screening programme outweigh the harms? Would it be a fair use of public resources? How can we ensure people have a genuine choice about whether to have screening or not?
In 2018, the UK National Screening Committee (UK NSC) began reviewing the way it considers ethical issues. For example, new members with expertise in ethics and social science were recruited. I have joined the team for 12 months to support the further development of this work. This blog provides an update on progress and describes some ideas in development.
UK NSC values and ethical principles
The values that underpin the UK NSC's work can be found in its working practices and code of practice, but could be more clearly described. Following a process of reflection, UK NSC members propose that the core values of the UK NSC can be summarised as:
rigour
independence and accountability
inclusiveness and respect
transparency
responsiveness
These values are specific to the work of the UK NSC but fit with the Principles of Public Life, the NHS Values and the Principles for Scientific Advice to Government.
Similarly, the ethical principles of health screening are encompassed within the UK NSC criteria for assessing the viability, effectiveness and appropriateness of a screening programme. However, describing exactly what these ethical principles are would make it easier to understand the overarching goals of screening. These could also form the basis of an ethical framework to help guide decisions about screening. UK NSC members suggest that the core ethical principles of screening are to:
improve public health and wellbeing
treat people with respect
promote equality and inclusion
use public resources fairly and proportionately
Setting the principles out in this way highlights that they can be in tension with each other, creating difficult dilemmas. For example, respecting people's wishes by enabling them to make informed choices throughout the screening pathway takes time and resources. It is the task of the UK NSC to examine and weigh the evidence for each screening proposal and to use these principles to make a judgement about recommending to ministers whether and how a screening programme should be implemented by the NHS.
Ethical analysis
Some screening programmes raise particular ethical issues. Examples include antenatal screening where termination of pregnancy is an option, or when screening one person could have an impact on the health or treatment of members of their family.
In these cases, the UK NSC may need a more in-depth analysis of the ethical issues. In future, this could involve setting up a temporary task group to carry out an ethical analysis. These groups could include members of the UK NSC and its reference groups, as well as people with professional and personal expertise relevant to the screening programme being discussed. The groups would gather evidence and views in order to describe and clarify the ethical issues and present their analysis to the UK NSC for it to make a recommendation.
Pilot ethics task group
Before committing to any of these proposals, we felt it was important to test them out. To do this we have set up a pilot ethics task group to carry out an ethical analysis for child-parent cascade screening for familial hypercholesterolemia (FH).
FH is a condition where the body has a high amount of cholesterol, which can cause heart disease leading to serious illness and death. It is known to be associated with certain gene variants. Around 1 in 250 to 1 in 500 people have the most common form of FH but it is estimated that only a small proportion of people with the condition in the UK population have been identified.
One way to find more people with FH could involve offering screening for high cholesterol levels to all babies. If their cholesterol was high, a genetic test would look for FH gene variants. If this was positive, the child's parents and other members of the family would be offered testing. This process is called child-parent cascade screening.
This type of screening raises ethical questions about, for example, who should be the beneficiaries of screening, the benefits and harms of very early diagnosis of FH, and consent processes for cascade screening within families.
The UK NSC recommended against childhood screening for FH in 2020 following a review of the evidence. The review highlighted that there had been little consideration of the ethical issues raised. Carrying out an ethical analysis now will help the UK NSC when it is time to look at this condition again.
The members of the pilot ethics task group are:
Roger Brownsword, Professor of Law, King's College London (Chair)
Sunil Bhanot, GP
Louise Bryant, Professor of Psychological and Social Medicine, Leeds University
Angus Clarke, Clinical Professor, Division of Cancer & Genetics, Cardiff University and All Wales Medical Genetics Service
Sharon Hillier, Director of the Screening Division of Public Health Wales
Katherine Robertson, patient and family perspective
Graham Shortland, Consultant Paediatrician with a special interest in Inherited Metabolic Diseases, Children's Hospital for Wales, University Hospital of Wales
Anne-Marie Slowther, Professor of Clinical Ethics, Warwick Medical School
The group will report its findings to the UK NSC in the summer. We will make these publicly available as well.
The aim of all this work is to embed ethics in the UK NSC's processes and thinking. If you are interested in contributing in any way, or if you have comments on any of the developments and proposals described in this blog, please get in touch with me through the helpdesk.
UK NSC blog
The UK NSC blog provides up to date news from the UK National Screening Committee. You can register to receive updates direct to your inbox, so there's no need to keep checking for new articles. If you have any questions about this blog article, or about the work of the UK NSC, please contact the UK NSC helpdesk.