The UK National Screening Committee (UK NSC) is consulting publicly on whether an evaluation of screening for severe combined immunodeficiency (SCID) should be undertaken in the NHS.
The UK NSC regularly reviews its recommendations on screening for different conditions every three years or in the light of new research evidence becoming available. The last review of screening for SCID was completed in 2013.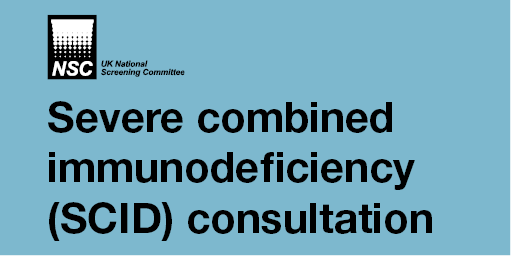 Public consultation
The consultation period lasts until 4 November 2017. Read the SCID consultation page on the screening recommendations database. The page includes:
documents for consultation
how to send your feedback
information about the expert review process
a list of stakeholders (interested parties)
the confidentiality and disclosure agreement for consultations
An overview of SCID
SCID refers to some rare inherited conditions which affect the development of the baby's white blood cells which are a crucial part of our immune system. These conditions make it more difficult for babies to fight off infections from about 3 months of age. Around 15 to 25 babies are born with the condition every year.
Infections that are not serious in most babies can be life threatening in those with SCID. The treatment is a bone marrow transplant, which can repair the damaged immune system.
Newborn screening, as part of the newborn blood spot screening programme, would look for babies with low numbers of white blood cells as a sign that they may have SCID.
Early detection can improve the success of the transplants. This is because doctors can help the baby to avoid infections before the transplant if they know the baby has SCID.
UK NSC on SCID
In an earlier step in the review process, the UK NSC found that screening for SCID is likely to be effective in increasing the number of babies who survive before and after transplant. But the evidence is uncertain in some areas.
For example, it is not known:
how many healthy babies have low numbers of white cells (so might be told they are ill when they are not) (false positives)
what care and treatment to offer babies with other causes of low numbers of white cells
how many babies are born in families who already know they have SCID
how the laboratory and treatment services will cope with the new tests and more ill babies
These, and other, issues can only be evaluated by trying screening for SCID in a large number of babies. The UK NSC is proposing that this should be attempted in the UK as it would help the Committee decide whether screening should be part of the newborn blood spot screening programme.
The consultation is an opportunity for stakeholders to comment on this proposal.
UK NSC blog
The UK NSC blog provides up to date news from the UK National Screening Committee. You can register to receive updates direct to your inbox, so there's no need to keep checking for new articles. If you have any questions about this blog article, or about the work of the UK NSC, please contact the UK NSC helpdesk.