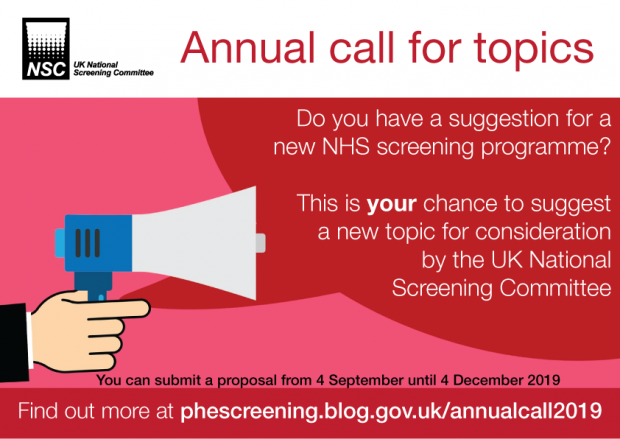 The UK National Screening Committee (UK NSC) is pleased to open the fourth annual call for new topics. This gives you the opportunity to propose a new health screening programme which could be implemented across the whole of the UK.
If you would like to submit a proposal, please check this list before doing so. Last time, we received a couple of submissions on conditions that were already on the list and being considered by the UK NSC.
The deadline for your proposal is 4 December 2019.
Important criteria to consider
Before writing your proposal, make sure that:
the condition is found in the general population and not in specific high-risk groups
the UK NSC is not already considering the condition
there is a reliable test and effective treatment
there is peer-reviewed (work that has been evaluated by one or more people with similar skills) literature to support the proposal
If you answered 'yes' to the above points, read the guidance and download the template submission form.
Please follow the instructions carefully. They are there to help you collect the essential information we need and to guarantee a quick and thorough evaluation.
Building on the year before
Last year, this opportunity attracted a lot of interest and we were delighted to receive 10 submissions.
The UK NSC carefully looked at each one, and 5 of them met preliminary criteria, which means the conditions will be subject to further evidence assessment.
These were:
adult screening for cutaneous melanoma
newborn screening for Neurofibromatosis type 1 (NF1)
newborn and adolescent screening for Klinefelter syndrome
newborn screening for 22q11 Deletion Syndrome
carbon monoxide-based screening to increase smoking cessation rates in pregnancy
You can view more details of their outcomes in the UK NSC annual report.
We look forward to receiving your suggestions.
UK NSC blog
The UK NSC blog provides up to date news from the UK National Screening Committee. You can register to receive updates direct to your inbox, so there's no need to keep checking for new articles. If you have any questions about this blog article, or about the work of the UK NSC, please contact the UK NSC helpdesk.