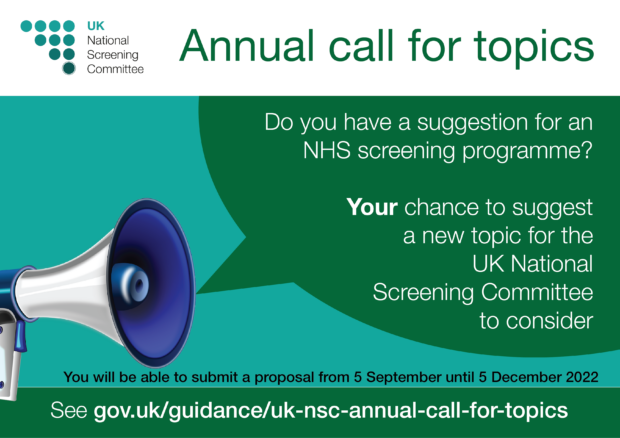 Next month, the UK NSC will once again open its annual call process when any individual or organisation can suggest a new screening programme.
During this year's annual call, following the expansion of the committee's remit, the UK NSC will welcome proposals for targeted and stratified screening as well as population screening.
In addition to suggesting a brand new screening topic for the committee to consider, you can also propose an early update to a UK NSC topic or a major modification to an existing screening programme.
The 2022 annual call will:
open on Monday 5 September
close on Monday 5 December
If you have a suitable topic in mind for the UK NSC to consider then you can start preparing now by referring to the UK NSC annual call: submitting a screening proposal guidance.
We have updated this guidance to align with the committee's updated criteria and expanded remit.
Keep up to date
Hopefully this blog article has given you a flavour of work the new group will be getting involved in and we'll be sure to keep you updated on progress. You can register to receive updates direct to your inbox whenever we publish a new article. If you have any questions about this blog article, or about the work of the UK NSC, please email screeninginformation@dhsc.gov.uk.